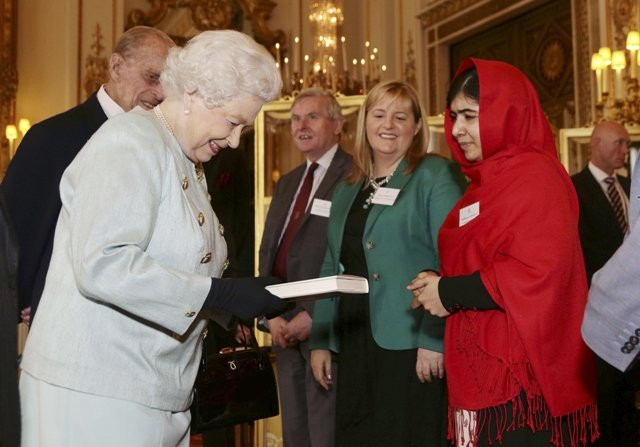 On 8 September 2020, the UK's longest serving monarch, Queen Elizabeth II, passed away peacefully at the age of 96 in Balmoral, her Scottish estate. After the Majesty's sudden passing, the world flipped through their archives to document the legacy she left behind, and took a trip down memory lane to revisit the precious time she gave to the people of the many countries she traveled to. .
Similarly, social media including world leaders reminisced about Her Majesty's visit to Pakistan. From attending our national assemblies and governor's galas to inviting and meeting our heroes in her homeland, here's a list of the late Queen's relationship with Pakistan and its people, since her coronation in 1952.
1961
This was Queen Elizabeth II's first trip to Pakistan. Accompanied by her husband, the late Duke of Edinburgh, Prince Philip, she visited Karachi, Peshawar, Quetta, Lahore and other parts of the country. A user took to Twitter to share photos of her visit and detailed her outfits while in Pakistan.
From driving a convertible as they wave to the crowd on the streets of Karachi to showing off her glittering tiaras and ball gowns at a lunch hosted by the governor of Peshawar and a gala in Lahore, the photos show a smiling graceful lady.
During her visit, she also met the then president, Muhammad Ayub Khan, in Lahore.
1974
Queen Elizabeth II also graced the Pakistan cricket team with her presence on its tour of England as they played against the country's cricket team at Lord's Stadium. A photo shows the Majesty shaking hands with former Prime Minister Imran Khan, who was then a cricketer.

1997
After 1961, the next visit to Pakistan was more than three decades later, when the Queen joined the country to celebrate 50 years of independence. She was again joined by Prince Philip.
In the photos floating around the internet, she is seen posing in a bright yellow polka dot dress while standing with Pakistani leaders at the Shah Faisal Mosque in Islamabad. While touring the mosque, she covered her head with a scarf over her hat while wearing stockings as a sign of respect for our culture.
She also spoke at a banquet hosted by the then President of Pakistan, Farooq Leghari. Her speech was a reflection of her emotions over the tragic death of Princess Diana. From planting trees to attending public schools, there are several memories of her trip to Pakistan in 1997.
In addition to her tours, she also gave the knighthood to former Prime Minister Nawaz Sharif, who was in power at the time. The British monarch also met the late Benazir Bhutto at a Pakistan National Assembly during her visit.
2013
Although she did not visit Pakistan Post 1997, it was not the last of her interactions with well-known Pakistani personalities. In 2013, the Queen and Prince Philip invited Nobel Peace Prize winner and activist Malala Yousafzai to a reception at Buckingham Palace, where they briefly met and spoke.
Malala, who was accompanied by her father, Ziauddin Yousafzai, presented the Queen with a copy of her memoir titled I Am Malala. While paying tribute to the Queen, the activist shared a photo of her meeting with Her Majesty on Instagram.
2019
The last of her personal interactions with Pakistanis was when she met all the team captains before the start of the International Cricket Council's (ICC) World Cup 2019. At the time, Pakistani cricket team captain Sarfraz Ahmed met her at Buckingham Palace.