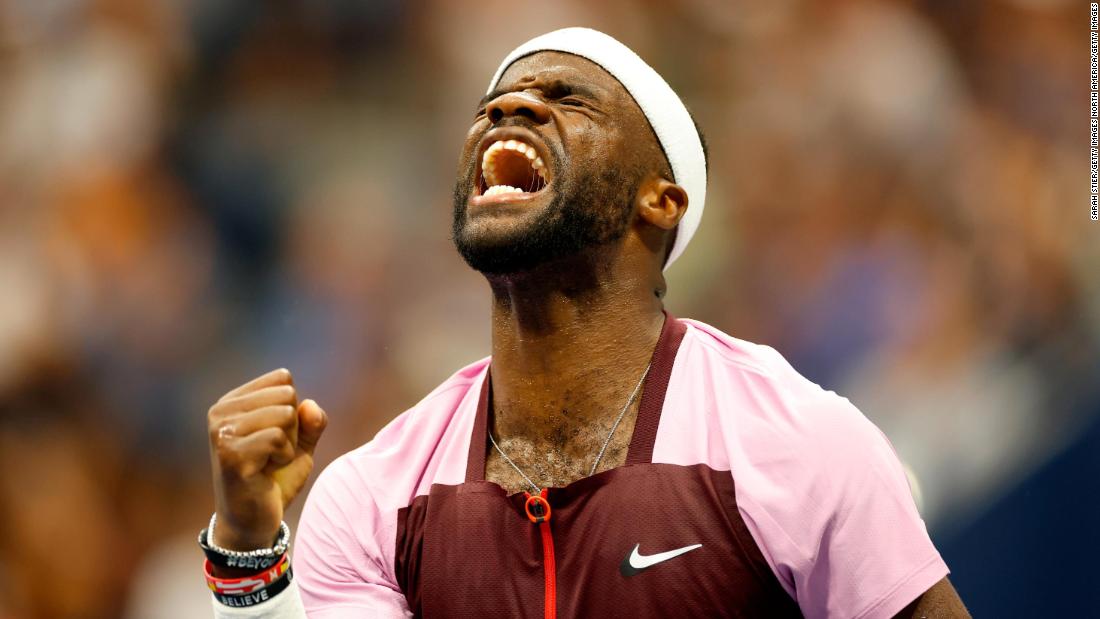 The 24-year-old just stood there enjoying the atmosphere created by a raucous Arthur Ashe Stadium.
It felt like a groundbreaking moment in the American's career; a culmination of hard work and raw talent that has long been heralded as the potential future of men's tennis in the country.
The expectations of Tiafoe were high for a long time and the number 26 in the world now looks more than comfortable on the biggest stage in the sport.
Should Tiafoe reach the semi-finals by beating Andrey Rublev on Wednesday, he would have the best grand slam result of his career and the feat will be all the more impressive given his humble beginnings.
After all, Tiafoe's path to tennis was by no means traditional.
Their father, Constant Tiafoe, started working at the Junior Tennis Champions Center in Washington, DC in 1999, eventually moving into one of the empty storage rooms while working around the clock.
His two boys sometimes stayed with him, sleeping on a massage table, while their mother worked night shifts as a nurse.
The unusual gateway to the sport gave Tiafoe the opportunity to develop his skills and after he started training at the facility, he didn't look back.
Driven by his parents' work ethic, he won the prestigious Orange Bowl — one of the most highly regarded junior tennis tournaments — at age 15, becoming the youngest boys' singles champion in the tournament's history.
He joined a roster of past champions including Roger Federer, Andy Roddick, Ivan Lendl, Jim Courier, John McEnroe and Bjorn Borg.
It was a sign of things to come.
Ripening on tour
Tiafoe turned pro in 2015 and began to familiarize himself with the rigors of the senior tour.
He broke into the top 100 in the world and began to assert himself at grand slams – reaching his first quarterfinal at the Australian Open in 2019 before losing to Nadal.
Three years later, he's back in the quarterfinals, but this time he feels more ready to seize the opportunity.
"Honestly, when I first came on the scene, I wasn't ready mentally and mature enough," he said at the track after beating Nadal. "I have been able to develop and have a great team around me.
"I'm happy that I won in front of my mother, my father, my girlfriend and my team and that they can see what I have done."
While confirming himself as a contender on the court, Tiafoe also strives for social justice.
In 2022, he told CNN Sport that the lack of diversity in sports had made him feel like an "outsider," and he vowed to keep fighting for equality as long as he still had the platform to do so.
He made a protest video in 2022 to raise awareness about racial injustices after George Floyd's death sparked protests around the world.
In collaboration with a host of black players and coaches – such as Serena Williams and Coco Gauff – he posted the video "Racquets down, hands up" on his social media channels.
On the pitch, his next game against Rublev will certainly be the biggest of his career to date.
The home crowd hopes his hero can continue to reach new heights in his bid to win a maiden grand slam title.
His performances have even caught the attention of some of the biggest names in the sport, with NBA star LeBron James congratulating Tiafoe on making it to the quarterfinals.
Make no mistake though, this is not an overnight success story. It's a product of thousands of hours of work and a mindset that won't take no.
Though the weight of a nation rests on his shoulders, Tiafoe has always focused on making his parents proud.
"Because they tried so hard, I felt like I didn't want to let them down," he told CNN Sport in 2015. "I felt like I didn't want to let the opportunities go for granted."
CNN's Will Edmonds and Christina Macfarlane reported.