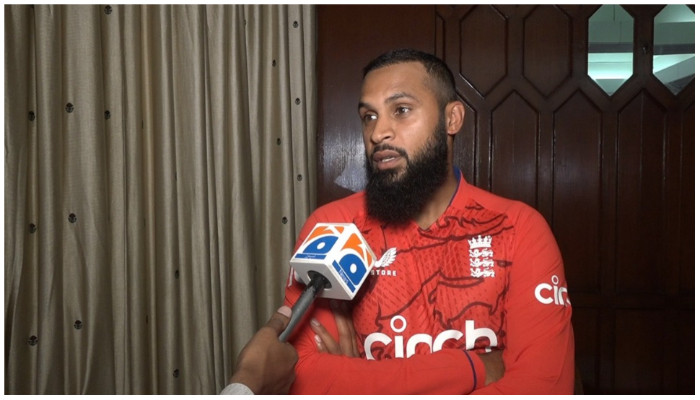 KARACHI: England Cricketer Adil Rashid believes that by being in Pakistan before playing in the Pakistan Super League, English players are experiencing the conditions here in Pakistan.
In an exclusive interview with Geo-newsThe 34-year-old England cricketer said he expects a tough match between the two teams in the seven T20Is, which kick off in Karachi from September 20.
"A lot of the English guys have previously played for the PSL, so that they know these conditions. That also gives us experience for them to give us feedback on how we should play and how the wickets are."
He kept saying that both teams are very strong.
"We have good batsmen, bowlers and all-rounders, and it's the same with Pakistan: they are very strong at home and it would be a very difficult series," said the England bowler.
Adil added that he is looking forward to the tour as it is going to be a tough series.
"Pakistan is a very good team at home, so it can also be a good experience," he said.
The veteran of 118 ODIs and 76 T20Is said Pakistan is still a strong squad even if they do without Shaheen Shah Afridi and Fakhar Zaman.
"It's the effort of the squad, their squad is very strong, with or without Shaheen or Fakhar. So we don't take this lightly. We're going to do our best to win the series and do our best to compete and that's what we're looking forward to," said the English spinner.
Speaking of touring Pakistan, Rashid said it was a "proud moment" for him.
"It's a proud moment for me, especially because my family is from Pakistan and of course come back for the first time and play here. So it's a historic moment not only for myself, but also for the whole team and this whole squad and everyone is really looking forward to it," he said.
The English cricketer said he expects a large crowd during the T20Is in Karachi and Lahore.
"Of course I expect a big crowd, whoever can come, come and support both teams, because it will be entertainment and good matches," he concluded.