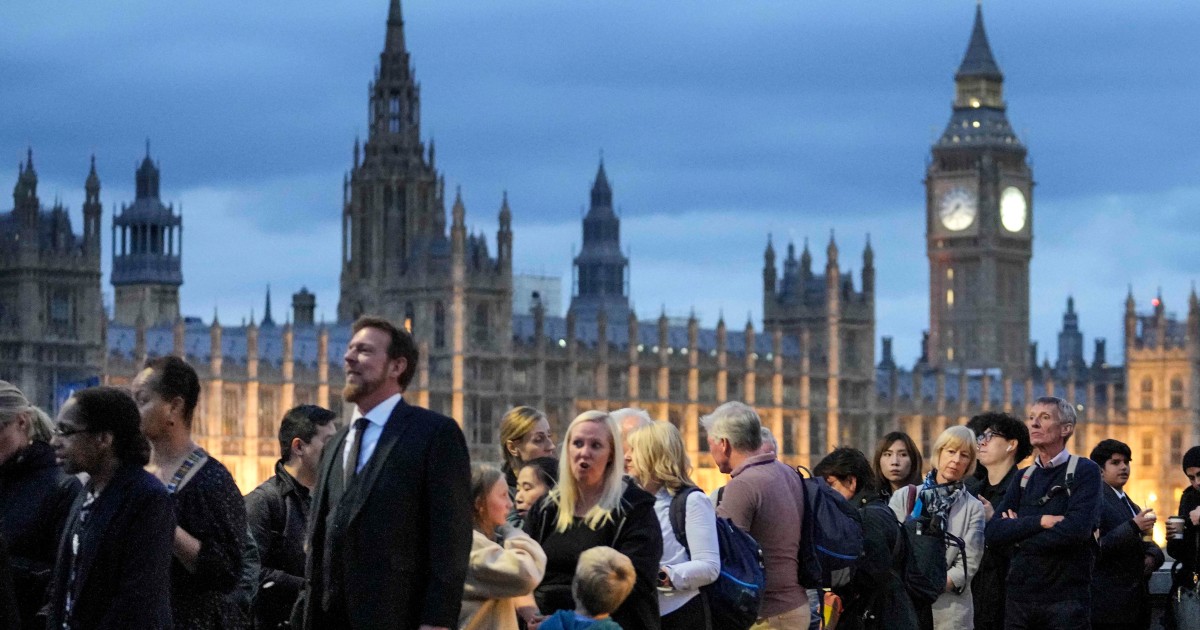 Mourners pass by the Queen's coffin at Westminster Hall
King hosts reception for faith leaders at Buckingham Palace
King Charles will hold a reception for faith leaders in Buckingham Palace's Bow Room after he returns from Wales on Friday, where he is expected to "say a few words," according to an official announcement.
The King will then leave the palace for Westminster Abbey, where he will hold the vigil with his three siblings: the Duke of York, the Princess Royal and the Earl of Wessex.
Crowds gather for King Charles III's arrival in Cardiff
Airspace restrictions are enforced in Cardiff during the King's visit
Temporary airspace restrictions are in place in #Cardiff ahead of Friday's royal visit. Restrictions between 6am and 8pm on Fridays apply to all aircraft, including drones used for any purpose. Violations of the law can lead to prosecution and equipment confiscation.
Temporary airspace restrictions will apply in the Welsh capital Cardiff during the King and Queen's visit to the city on Friday.
King Charles and Queen Consort Camilla will attend a service at Llandaff Cathedral and visit the Welsh Parliament and Cardiff Castle as part of their visit. A number of roads in the vicinity of the locations will also be closed during their stay there.
Airspace restrictions are in effect from 8 a.m. (3 a.m. ET) to 6 p.m. (1 p.m. ET) and apply to all aircraft, including drones, according to a tweet by the South Wales Police.
"Breach of the law can lead to prosecution and seizure of equipment," the police warned.
London mayor 'definitely' certain capital is ready for Queen's funeral security demands
London Mayor Sadiq Khan said the city is "definitely" well prepared for the city-wide crowd control for the Queen's funeral next Monday, telling Sky News on Friday that the secret security plans are "years in the making" .
"This funeral is unprecedented. It is the largest gathering of world leaders in decades. Besides, you have literally hundreds of thousands, if not millions, coming to pay their respects and you will see prime ministers, princes arriving over the next few days," the mayor said.
The country's 43 other police forces will also be in London along with the armed forces to ensure the safety of the crowds and dignitaries from around the world.
Khan also advised mourners visiting London to pay their respects to the Queen to check official announcements and public transport arrangements in advance and prepare for various weather events. Currently, the line has been shut down for at least six hours after capacity was reached.
Line to see Queen's chest stop for at least 6 hours after reaching capacity
The line to pay tribute to the Queen has been temporarily interrupted for at least 6 hours after a park of mourners "reached capacity", the British government said.
"Southwark Park has reached capacity. Access will be paused for a minimum of 6 hours. We apologize for the inconvenience," said the Department of Digital, Culture, Media and Sport.
"Please try not to queue until it reopens," it reads.
The line currently runs for 7.9 miles along the River Thames in London, with waiting times estimated to be at least 14 hours.
Hong Kong mourners line up outside British consulate
Prince Harry wears military uniform during Saturday vigil
Prince Harry will be allowed to wear his military uniform on Saturday as he and the Queen's seven other grandchildren watch next to her coffin in Westminster Hall.
A Kensington Palace spokesman said both Prince William and Harry would be in uniform at the request of King Charles III. William will be at the head of the Queen's casket as they ascend the 15-minute wake, while Harry will be at the foot.
As a non-working member of the Royal Family, Harry did not wear a military uniform at ceremonial events ahead of the Queen's funeral on Monday.
Harry and his wife, Meghan, the Duchess of Sussex, stepped down from their roles as senior members of the royal family in March 2020.
The King and his siblings are expected to hold a vigil at Westminster Hall later today.
Hundreds gather in Uganda to honor Queen at memorial service
KAMPALA, Uganda — Hundreds of Ugandans attended a memorial service in honor of Queen Elizabeth II, a somber ceremony that underlined the fondness for the late British monarch in this East African country.
Speakers at the Anglican Cathedral in the Ugandan capital on Thursday included Foreign Minister Jeje Odongo, who paid tribute to the Queen as an "engaging" leader.
"She wasn't the only Queen of England," she said. "She was the queen of all of us in the Commonwealth."
Reverend Jonathan Kisawuzi, dean of the cathedral, spoke of the Queen's 'faith, courage and leadership' during her 70-year reign. "We will always remember her," he said.
Uganda is one of 56 Commonwealth countries, a group of mostly former British colonies that now includes others, such as Rwanda, that were not part of the British Empire.
Day breaks across the River Thames as mourners line up in London
The queue to pay respects is so long it may have to be interrupted, UK government warns
The British government warned on Friday that entry for the line to pay respects to the Queen, as she lies in state in Westminster Hall, will be interrupted when the park with mourners waiting reaches capacity.
Officials called on the public to reconsider joining the queue. "If you haven't left to join yet, consider waiting for the number to decrease," read an official update at 8:30 a.m. (3:30 a.m. EST).
The queue for the queen on Friday is expected to last more than 11 hours. The dressed-up queen will be open to the public 24 hours a day until her funeral on Monday.
Mourners wait 14 hours as they almost queue to see Queen
Mourners wishing to pay their last respects to Queen Elizabeth II must wait 14 hours in a 7.9-mile line along the River Thames in London.
Since Friday morning early thundreds of people lined up for the chance to pass by the Queen's coffin at Westminster Hall, where the late monarch will remain in state until her funeral Monday.
The queue is so long that the UK has launched a live tracker that monitors wait times:
Friday morning lines at London Bridge
What to expect on Friday
Thousands of people in Britain's capital continue to join a mile-long line to pay their last respects to Queen Elizabeth II.
Meanwhile, King Charles III and the Queen Consort are expected to travel to Wales today after a quiet Thursday.
Charles and Camilla will attend a thanksgiving service at Llandaff Cathedral in the Welsh capital, Cardiff, before taking part in a reception at Cardiff Castle.
Later, Charles and his siblings are expected to hold a vigil at the Queen's casket around 7:30 p.m. (2:30 p.m. ET).