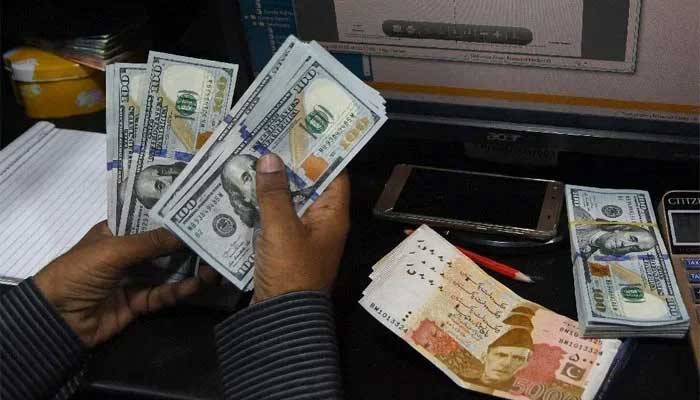 KARACHI: The Pakistani rupee maintained its losing streak against the greenback in its 8th consecutive session in interbank trading on Tuesday.
According to the Exchange Companies Association of Pakistan (ECAP), the local unit changed hands for Rs232 – down from Rs2.18 against the close of Rs229.82 on Monday in the inter-bank market at around 1:40 PM.
Exchange Companies Association of Pakistan (ECAP) Secretary General Zafar Paracha told: The news that it was imperative for all stakeholders to sit around the table and resolve Pakistan's problems.
The ECAP official said that once the loan from the International Monetary Fund (IMF) comes in, the rupee would gain ground against the dollar – and it happened when the local unit appreciated Rs2 after the SBP received the amount.
But, he noted, the downfall has continued since — with small negligible gains — as the country, despite money from the global lender, was not getting money from multilateral and bilateral organizations.
Paracha added that the Asian Development Bank (ADB), the World Bank (WB) and friendly countries – Saudi Arabia, the UAE and Qatar – are still reluctant to lend and invest in Pakistan.
"The main reason behind this: political instability," Paracha said, pointing out that on the day the IMF board was about to transfer the amount to Pakistan, the governments of PTI in Punjab and KP announced that they would not meet IMF requirements .
"This has made a negative impact. PTI rules much of the country and it has its importance […] but right now we need political stability and the government has no clear vision," he lamented.
Paracha said that despite being in government, all parties behave as if they are in opposition. "No one is stepping up to help the people and no one is willing to restore the economy. Everyone is playing the blame."
But aside from criticizing the government officials, Paracha praised the State Bank of Pakistan (SBP) and said the institution has played an effective role through various policies over time.
Moving on to the impact of flooding, Paracha said government officials have estimated it at about $30 billion, but he feared it could be about $50 billion.
"The losses are huge, but we don't have enough donations to close the gap," he said.
Floods caused by record monsoon rains and glacial melt in the mountainous north have affected 33 million people and claimed nearly 1,400 lives, washing away homes, roads, railways, livestock and crops.